The Connecticut Epilepsy Advocate proudly serves all of the Fifty States in America, along with all of Connecticut's one hundred and sixty-nine cities and towns, in the eight counties of Fairfield, New Haven, Middlesex, New London, Litchfield, Hartford, Tolland, and Windham.
Our website has just over twenty pages. with topics like About Us, Testimonials, Support Groups, Information, Medic Alert, Social Security Disability Insurance, Prescriptions, Payments and Donations, and Contact Us, just to name a few, so please take a look at the tabs and scroll around to find the ones that would be most helpful to both you and those you know.
Our organization will interact with people living with Epilepsy to help them cope with this insidious disease in any way possible. If there is something we do not know (and trust me, we do not know it all) we will do our best to find someone who can provide the needed information. Each of us here just wants more people to become "Aware About Epilepsy"
We presently have four Support Groups, in Bristol, Milford, Waterbury, and Stamford. We are looking to launch even more, so if you would like to volunteer to run a Support Group in your area, please let us know, and we can determine if people in your area would benefit from a more local group. (We want the groups to be spread across the state, not too close to one another).
Never facilitated a group before? Don't worry, we will train you on how to run your group. You will only be donating approximately six hours a month of your time; and you will be making more people "Aware About Epilepsy."
Did you know that The Connecticut Epilepsy Advocate has been featured on many TV stations? The list includes News 8, Fox 61, NBC Connecticut, News 12 Connecticut, WFSB 3, Lifetime Network, and Public Access Channels. Stories have been published in The New Haven Register as well as 26 other daily and weekly papers, including The Connecticut Post and the other Hearst Newspapers: The Stamford Advocate, Greenwich Times, Darien News, The News-Times, The Hartford Courant, The Republican-American, The Stamford Times and The Hour, The Milford Mirror as well as Milford Living Magazine. We are also on Facebook, Twitter, Instagram, and YouTube, each of which will let you learn even more about us.
The Connecticut Epilepsy Advocate, Inc. is a recognized
501 (c) (3) Non-Profit Organization.
​
It is the objective of the Connecticut Epilepsy Advocate, Inc. to offer transportation and hospitalization information, contacts and links to companies that manufacture anti-seizure medication and assistance with anti-seizure medication and seizure alert dogs for people living with Epilepsy.
HB 5450 An Act Concerning the Palliative Use of Marijuana
Please click here to read about this on our News Page
(Please read our Legal Disclaimer below)
Self-Expression
Making people Aware of Epilepsy in any way I can is a self-fulfilling prophecy for me.
Robert A. Fiore, Connecticut Epilepsy Advocate
​
While Connecticut Epilepsy Advocate www.ct-ea.org makes every effort to present, accurate, and reliable information on this Internet site, Connecticut Epilepsy Advocate does not guarantee the accuracy, completeness, or timeliness of the information provided on this site. Connecticut Epilepsy Advocate is not responsible for and expressly disclaims all liability for damages of any kind, whether direct, indirect, consequential, compensatory, actual, punitive, special, incidental, expectancy or exemplary, arising out of use, reference to or reliance on information Connecticut Epilepsy Advocate be liable for any direct or indirect damages resulting from use or reliance on the information contained in this website.
Connecticut Epilepsy Advocate documents, including, but not limited to, TV, radio, BlogTalkRadio, Facebook, Twitter, LinkedIn, the Epilepsy Stories TV show, YouTube postings, personal, and professional stories, information links or any one of the website pages along with explanations, opinions, etc. are for Connecticut Epilepsy Advocate owners' use only.
Connecticut Epilepsy Advocate may present content for or from external entities, which may include advertisers or sponsors in exchange monetary or non-monetary compensation. Any reference or presentation herein to any specific commercial product, process or service by trade name, trademark, manufacturer or otherwise does not constitute or imply endorsement, recommendation or favoring by Connecticut Epilepsy Advocate. Connecticut Epilepsy Advocate is not responsible for Links provided in this website to other external Internet addresses do not constitute endorsement, approval, certification or control by Connecticut Epilepsy Advocate for the information at such addresses. Connecticut Epilepsy Advocate is not responsible for the content or privacy practice of such sites.
Materials on this website, including textual, graphics, and interactive materials are protected by the U.S. Copyright Law (Title 17, U.S.C.). You may not reuse or redistribute them in any form beyond what is allowed by the fair use doctrine without the expressed written permission of the copyright holder.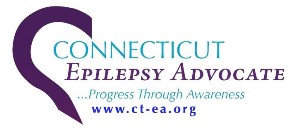 — The Connecticut Epilepsy Advocate, Inc. is a recognized 501 (c) (3) Nonprofit Organization. —​